EAST LONDON ONLY
Contact your FFG sales representative today on 043 722 0666 for DEAL prices

PLEASE NOTE
These Deals are for East London Branch only & valid until 15 December 2023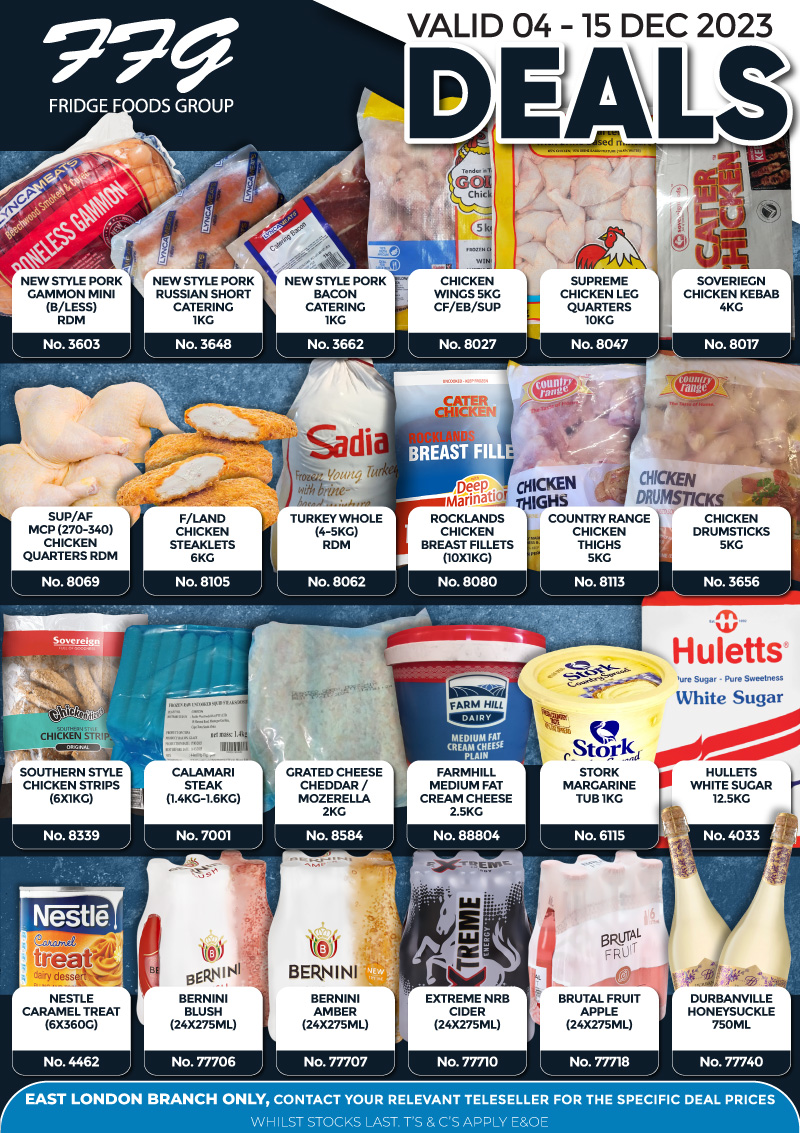 FFG PRODUCTS ON PROMOTION – EAST LONDON
PLEASE NOTE: EAST LONDON ONLY
Contact your FFG sales representative today on 043 722 0666 for DEAL prices
Fridge Foods Group has been operational in the food distribution and food retail sectors for over 45 years.
Our Head Office is situated in East London, where the business started, and has major depots in Port Elizabeth and Cape Town. We are therefor perfectly situate to service the entire Eastern, Northern and Western Cape Provinces of South Africa. 
Over the years FFG has built trading relationships with the biggest food manufacturers and importers in the Country. These trading relationships allow us to provide our B2B customer base with the best possible products, pricing and service. 

You will need to be a registered Fridge Foods Group Customer with a username and password. If you would like to register with FFG for the online store, click the link below.

Services
FFG provides one of the widest and most diverse ranges of foodstuffs in the industry.

Distribution
Centre's in Cape Town, Port Elizabeth and East London...

Retail
Exclusively Food is the Fridge Foods Group's retail division...

Contact
Talk to your FFG representatives to find out information on products and more...

Register For Online Shopping
(Contact us if you do not have an FFG Customer Number)